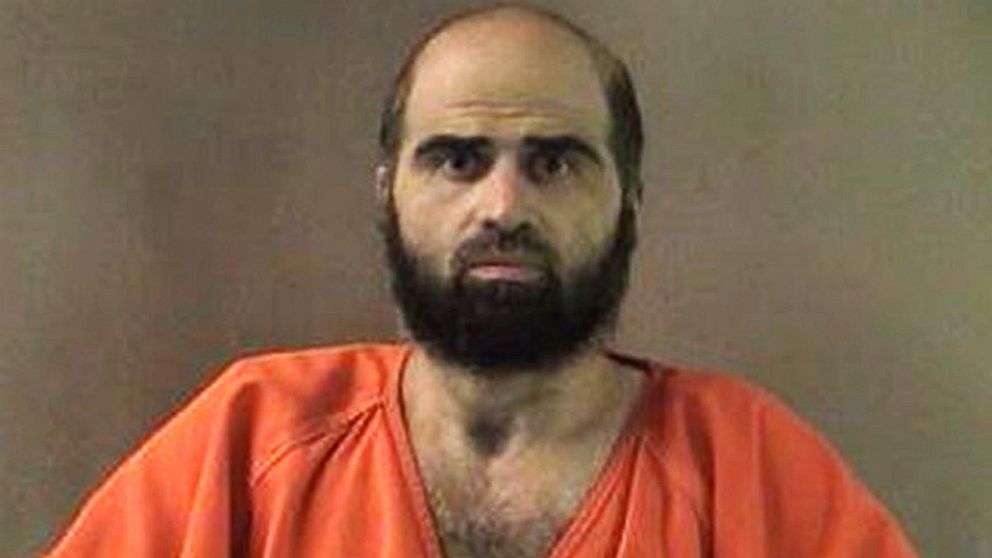 I did it, now kill me
Why is this trial even being held? Nidal Hasan has claimed from day one that he is the shooter and he did it because he had "switched sides" and wanted to protect his Taliban brothers. His non-defense serves Hasan's needs only; he wants to be executed and receive his martyrs reward in heaven. He has to prove to the judges that he is guilty and thus receive the death penalty. So far he is doing a great job.
From
MSN
August 21 by
Michael Graczyk
No defense from suspect in Fort Hood shooting
FORT HOOD, Texas
— The soldier on trial for the deadly 2009 shooting rampage at Fort Hood refused to put up a fight Wednesday, resting his case without calling a single witness or testifying in his own defense.

Maj. Nidal Hasan could face the death penalty if convicted for the attack that killed 13 people and wounded more than 30 others at the Texas military base. But when given the chance to rebut prosecutors' lengthy case — which included nearly 90 witnesses — the Army psychiatrist declined.

About five minutes after court began Wednesday, a day after prosecutors rested their case, the judge asked Hasan how he wanted to proceed. He answered: "The defense rests."

The judge, Col. Tara Osborn, then asked Hasan: "You have the absolute right to remain silent. You do not have to say anything. You have the right to testify if you choose. Understand?"

Hasan answered that he did. When the judge asked if this was his personal decision, he said: "It is."

Osborn then adjourned the trial until Thursday morning, agreeing to give prosecutors an extra day to prepare their closing arguments. Jurors were led out of the courtroom.

Hasan's move wasn't completely unexpected. He has made no attempt since his trial began two weeks ago to prove his innocence. He also has done little to challenge the narrative of military prosecutors, who showed evidence of Hasan's laptop being used to search the Internet for "jihad" and find articles about calls to attack Americans in the days and even hours before the Nov. 5, 2009, shooting.

He has sat mostly silent, raising few objections, declining to let military lawyers take over his defense and questioning only three of prosecutors' witnesses. Several of those witnesses were shot during the attack and recalled hearing a shout of "Allahu Akbar!" — Arabic for "God is great!" — inside a crowded medical building before Hasan opened fire using a laser-sighted handgun.

Hasan, an American-born Muslim, suggested before trial that he wanted to argue that the killings were in defense of Taliban fighters in Afghanistan, but that strategy was rejected by the judge.

Since then, he has offered little for jurors to consider. In fact, during a brief opening statement, Hasan said evidence would show he was the shooter and called himself a soldier who had "switched sides" in a war.