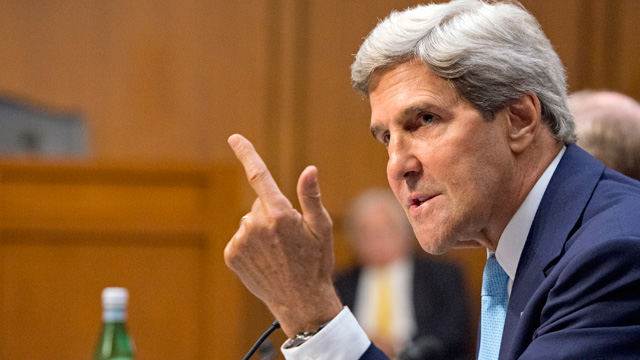 Another trip down the rabbit hole.
"Nowhere in rebel-controlled Syria is there a secular fighting force to speak of" --
New York Times
, April 28, 2013
Syrian rebels pledge loyalty to al-Qaeda --
USA Today
, April 11, 2013
From The Daily Caller August 4 by Neil Munro
Kerry insists Syrian rebels are secular


Despite evidence to the contrary, Secretary of State John Kerry told a Senate hearing Tuesday that Syria's rebel forces are increasingly dominated by secular groups.

"It's our judgment that — and the judgment of our good friends who actually know a lot of this in many ways better than we do because it's their region, their neighborhood — … [that] the secular component of Syria will re-emerge" once the Syrian government is deposed, Kerry claimed in the hearing.
It's called taqiyya, Kerry and a working knowledge of this important doctrine would help to dispel the fog of lies you are laboring under.

Those "good friends" are officials from Saudi Arabia, Qatar, Turkey, Jordan and the United Arab Emirates, which are all religious and political enemies of Syria's embattled dictatorship.
Frenemies, actually.

"I'm talking about the Saudis, the Emirates, the Qataris, the Turks, the Jordanians," he said.


The democratic bonafides of Syria's rebels are important. That's because President Barack Obama's planned intervention in Syria — following the Aug. 21 nerve gas attack on Syrians by the government — may weaken the dictatorship enough to help the rebels possibly impose an Islamic dictatorship.
Possibly?

Kerry dismissed numerous media reports from inside Syria that say the rebels are dominated by groups that are fundamentalist, fanatical, well-funded and increasingly entwined with al-Qaeda-style jihadi veterans.

The rebels "have changed significantly — they have improved, and as I said earlier, the fundamentals of Syria are secular, and I believe, will stay that way," insisted Kerry, who served as a Massachusetts Senator for 28 years until he became Secretary of State.

Kerry's claim echoes the much-ridiculed Feb. 2010 claim by then-Director of National Intelligence James Clapper that the multinational Muslim brotherhood is "largely secular."
And I am largely a woman.