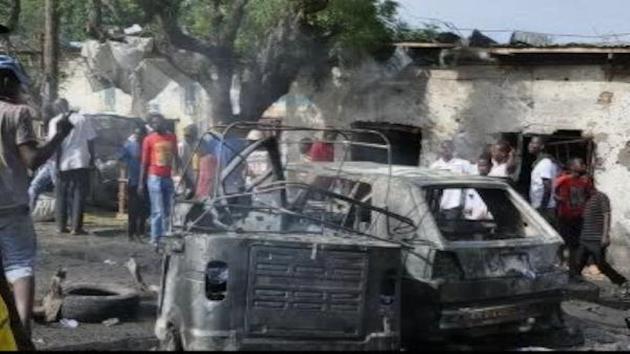 56 murdered by Islam, most were old women selling peanuts and lemon juice.
This is Boko Haram. This is Islam.
From
WABC
July 1 by Haruna Umar
CAR BOMBING KILLS 56 PEOPLE IN NIGERIA MARKET
MAIDUGURI, Nigeria --A car bomb in a marketplace in Maiduguri, the northeast Nigerian city that is the birthplace of Boko Haram extremism, killed at least 56 people on Tuesday, the leader of a civilian group that recovered the bodies said.

Sadiq Abba Tijjani, leader of the Civilian Joint Task Force, told the Associated Press his group recovered at least 56 dead bodies at the blast site, mostly elderly women who sold peanuts and lemon juice at the market.

Tijjani said they managed to identify 21 of the dead but the rest "were either burnt or damaged beyond recognition."

Other witnesses also estimated the death toll to around 50. Some officials said only 17 people died in the explosion that ripped through the market early Tuesday, but officials regularly play down the death toll.

Witnesses and officials blamed Boko Haram extremists who have been accused of a series of bomb attacks in the West African nation. The group, which attracted international attention with its April abduction of more than 200 schoolgirls, has scaled up its activities in recent months, launching more frequent and deadly attacks.

The inability of the military to curb attacks has brought international criticism, with the United Nations noting the government is failing in its duty to protect citizens. In a statement issued Monday, U.N. Secretary-General Ban Ki-moon reiterated the readiness of the United Nations "to support Nigeria as it responds to this challenge in a manner consistent with its international human rights obligations."

Maiduguri, a city of more than 1 million people, has suffered from many strikes. In March, twin car bombs killed more than 50 people at a late-night market where people were watching a football match on a big screen.

Tuesday's explosives were hidden under a load of charcoal in a large vehicle, according to witnesses who spoke on condition of anonymity for fear of reprisals.

Stalls, goods and vehicles were reduced to piles of trash. The burnt-out shells of five vehicles and some tricycle taxis marked the site of the explosion.
Read it all