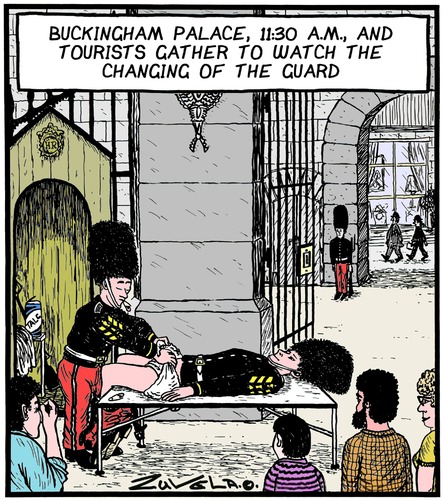 The guys with the fuzzy hats and stern demeanor are no longer allowed to stand guard outside the gates and entrances to the palace, they have been pulled inside the gates and are themselves protected by police, mainly due to "...
possible threats from Islamic extremists". The jihadists have won if this is the position Britain will take. The more kowtowed the West becomes, the more aggressive Islam becomes, and with this capitulation Britain moves another step closer to annihilation.
Long live the Queen.
From the Daily Mail December 28 by Abul Taher and Mark Nicol
Retreating of the Queen's Guard: End of an era as palace sentries fall back in face of mounting fears of new 'lone wolf' terrorist attack


Security chiefs have taken the dramatic step of withdrawing Royal Guards from their high-profile posts outside palaces amid mounting fears of 'lone wolf' terrorist attacks.

Elite soldiers of the Queen's Guard have pulled back from public positions at many landmarks in response to possible threats from Islamic extremists.

For the first time since the height of the IRA's terror campaign, the soldiers are also no longer allowed on sentry duty alone, and are now accompanied by armed police.

The move to more secure positions behind gates or railings is a direct response to attacks such as the murder of Fusilier Lee Rigby and the killing of a sentry by a lone gunman at the Canadian Parliament two months ago.

But the measures have been described as a 'retreat' for the Guards, known the world over for their bearskin caps.

Retired officer Major Iain Dalzel-Job of the Scots Guards told The Mail on Sunday: 'I think this is a big shame.

'The reason people know we're around is because they can see us. But I suppose the changes are necessary as there is a significant threat.'

This newspaper has confirmed the changes to the Guards' security at sites including Clarence House, St James's Palace, Windsor Castle and Horse Guards Parade.

At Clarence House, the official residence of Prince Charles, the guardsmen who used to stand in front of the gates on The Mall, a public road, have now been relocated, along with their sentry boxes, behind metal gates.

Tourists, who love to pose with the Guards, can now barely see them. Police officers confirmed changes had been made for security reasons.