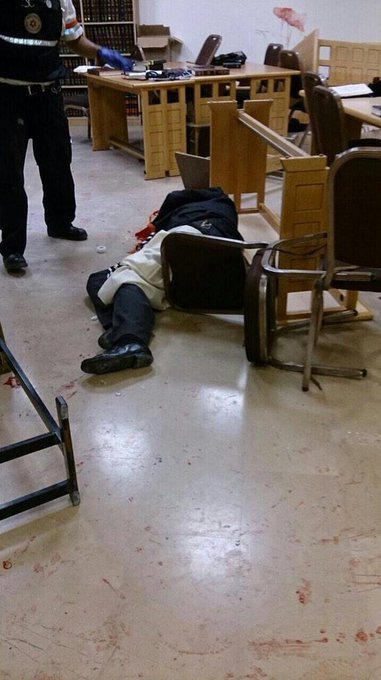 Four are murdered and others wounded and the world blames Israel. Two jihadists stormed a synagogue, shouted "Allahu Akbar" (God is greater) while spraying bullet and slashing with cleavers. Remember, this has nothing to do with Islam and to make that connection is "Islamophobic". So says Obama other world leaders.
From
NBC
November 19 by Paul Goldman and Lawahez Jabari
Three Americans Among Four Rabbis 'Slaughtered' in Jerusalem Synagogue


JERUSALEM — Two Palestinians stormed a Jerusalem synagogue, opening fire and using knives and axes to attack Jews praying inside, officials said Tuesday. Four rabbis were killed — including three dual U.S.-Israeli nationals — along with an Israeli policeman, and five other people wounded.

The attackers were later killed in a shootout with police. "Everybody was praying peacefully without any disruptions whatsoever and then all of a sudden the terrorists go into a place of worship and peace and turn it into a killing nightmare," Israeli police spokesman Micky Rosenfeld told BBC Radio 4.

Prime Minister Benjamin Netanyahu said: "Human beasts committed a massacre, and they came charged with hatred against the Jewish people and their state."

Israeli police told NBC News that three of the dead were dual U.S.-Israeli citizens. Britain's Foreign Office confirmed the death of a dual U.K.-Israeli national. Police said the slain included Rabbi Moshe Twersky, the son of Boston-born Isadore Twersky who founded Harvard University's Center for Jewish Studies. Rabbi Cary Levine, Rabbi Avraham Goldberg and Rabbi Aryeh Kopinsky were also killed, according to an announcement made by the synagogue.

The slain policeman was identified as Zidan Saif, 30. He died later in the evening in a hospital from critical wounds sustained, said police spokesman Micky Rosenfeld.

Netanyahu vowed to "respond with a heavy hand to the brutal murder of Jews who came to pray and were met by reprehensible murderers." He later ordered the demolition of the attackers' homes although he did not confirm the names of the perpetrators.

Palestinian President Mahmoud Abbas condemned the attack, the first time he has done so since a recent spike in deadly violence against Israelis. He also called for an end to Israeli "provocations" surrounding a contested holy site. Hamas spokesman Sami Abu Zuhri praised it and called for more bloodshed.

Netanyahu blamed the violence on incitement by Hamas and Abbas.