There you go. Do not make fun of Muslims else you suffer the wrath of Islam.
The show sounds very funny, and the character looks like Borats dad so I think many would enjoy it. Less than 200 complaints against over 3 million viewers should be a slam dunk as far as keeping it on the air, but continuing to show the program would be "Islamophobic."
From the
Guardian
August 30 by Mark Sweney
Citizen Khan may face Ofcom investigation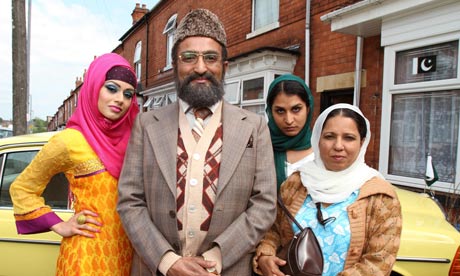 Citizen Khan. Orson Wells, call your office!
Ofcom is considering launching an investigation into BBC1's Citizen Khan, a comedy about a modern Asian family, after receiving complaints that it stereotypes Muslims and insults Islam.

The TV regulator has received about 20 complaints about the sitcom, which debuted on BBC1 in Monday night, and is now assessing them.

Ofcom will then make a decision as to whether the complaints warrant a formal investigation to see whether the BBC has broken any UK broadcasting rules relating to viewer harm and offence.

The BBC had received 187 complaints by Tuesday about the show, which follows the life of a self-appointed "Muslim community leader" and his British-Pakistani family in Birmingham, following its broadcast.

The number of complaints has almost certainly increased since then, propelled by media coverage of the show, prompting the BBC to decide not to release any updated figures.

Viewers complained that the show was offensive...
So many TV shows have been groundbreaking enough to garner complaints, but in no instance did the one doing the complaining present the very real chance of violent actions. Until now.