How many more examples do we need before we cut off all jizya payments to our supposed friend in the war on terror? I am afraid there are not enough examples to make the blind see.
From
Rediff News
May 17
Most Pakistanis grieve for Osama: Survey
A majority of Pakistanis surveyed in a poll appeared to be aggrieved over the death of Osama bin Laden, with 51 per cent describing their emotions as "grief" though one-third said they were unconcerned by the incident.
The nationwide study was released by Gilani Foundation and carried out by Gallup Pakistan, the Pakistani affiliate of Gallup International. The poll covered 2,530 men and women in the rural and urban areas.
The poll was conducted among 2,530 men and women representatives of the adult population of Pakistan. They were distributed in the rural and urban areas of various provinces and districts and comprised a cross-section of various education, income, age and linguistic backgrounds.
In the following pages, you will read how Pakistanis responded to the questionnaire.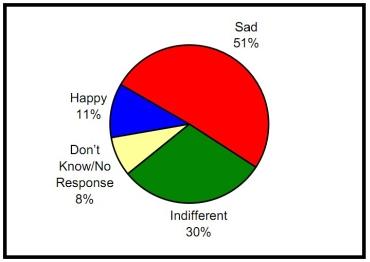 How do you feel about Osama's death?

Around 51 per cent said they were sad about the death of Osama bin Laden.

A significant 30 per cent described their emotions as unconcerned or uncommitted, whereas 11 per cent were happy.
There is more, read it all